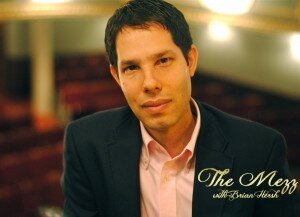 The Mezz

with Brian Hersh
Sarasota's radio show focused on the Arts and Culture of our community.
If you're looking for Brian Hersh, the first place you should check is on the mezz. Not only is the mezzanine his favorite place to view performances, but it's also where he broadcasts his show — aptly named The Mezz. Each Saturday at 1pm The Mezz, sponsored by Black Bird Home Gallery, eminates from the mezzanine level of Black Bird's Main Street locale in downtown Sarasota.
Hersh, Education & Outreach Director for Asolo Repertory Theatre, kicked off WSRQ's first show dedicated solely to the local arts scene with guest Dwight Currie, Associate Director of Museum Programs at the John and Mabel Ringling Museum of Art. Currie Spoke about the Ringlings and their large part in Sarasota's rich history of art as well as their other influences in the formative years of Sarasota.
Hersh's goal of breaking down barriers and building bridges – making the arts accessible for all is clearly evident is The Mezz. Not only is the show about talking to performing and fine artists, but also shining a spotlight on shows and exhibitions that may get lost among Sarasota's bustling, vibrant art scene.
Before arriving in Sarasota, Hersh served as Assistant Director of Visitor Services at the world's leading performing arts center, Lincoln Center for the Performing Arts in New York City. There, he oversaw the Meet-the-Artist program and School Series. He also worked with a variety of styles and artists including opera, jazz, ballet, Broadway, chamber music, world music, and Shakespearean theatre. While in New York City, Hersh also played drums in epic rock bands and accompanied singer/songwriters in landmark venues such as: Arlene's Grocery, CB's 313 Gallery, Continental, and Don't Tell Mama.
May 5th: Cliff Roles, photographer; Bill Cornelius, Darwin's on 4th
Audio clip: Adobe Flash Player (version 9 or above) is required to play this audio clip. Download the latest version here. You also need to have JavaScript enabled in your browser.
April 28th: Joey Panek, The Art Whisperer; Christine Alexander, Lazy Fairy Improv Troupe
Audio clip: Adobe Flash Player (version 9 or above) is required to play this audio clip. Download the latest version here. You also need to have JavaScript enabled in your browser.
April 21st: Jim Shirley, Arts and Cultural Alliance of Sarasota County; Sarabeth Kalajian, Sarasota County Libraries
Audio clip: Adobe Flash Player (version 9 or above) is required to play this audio clip. Download the latest version here. You also need to have JavaScript enabled in your browser.
April 14th: Filmmaker Vivian Ducat – All Me: The Life and Times of Wilfred Rembert
Audio clip: Adobe Flash Player (version 9 or above) is required to play this audio clip. Download the latest version here. You also need to have JavaScript enabled in your browser.
March 31st: Brittany Proia and Ryan McGovern, Missed Connections: A Craigslist Cabaret
Audio clip: Adobe Flash Player (version 9 or above) is required to play this audio clip. Download the latest version here. You also need to have JavaScript enabled in your browser.
March 24th: Emilio Delgado, Hamlet, Prince of Cuba; Kelly Kirschner, UnidosNow
Audio clip: Adobe Flash Player (version 9 or above) is required to play this audio clip. Download the latest version here. You also need to have JavaScript enabled in your browser.
March 3rd: Dirk Meyer, Sarasota Orchestra
Audio clip: Adobe Flash Player (version 9 or above) is required to play this audio clip. Download the latest version here. You also need to have JavaScript enabled in your browser.
February 25th: Soprano Kathleen Kim and Maestro Anthony Barrese of Lucia di Lammermoor from the Sarasota Opera
Audio clip: Adobe Flash Player (version 9 or above) is required to play this audio clip. Download the latest version here. You also need to have JavaScript enabled in your browser.
February 18th: Leymis Bolaños Wilmott and Angela Rauter of Fuzión Dance Artists
Audio clip: Adobe Flash Player (version 9 or above) is required to play this audio clip. Download the latest version here. You also need to have JavaScript enabled in your browser.
February 11th: Elizabeth Bergman, Choreographer Manatee Dance Alliance/Key Chorale
Audio clip: Adobe Flash Player (version 9 or above) is required to play this audio clip. Download the latest version here. You also need to have JavaScript enabled in your browser.
February 4th: Singer/Songwriter Jill Sobule; Actors Jason Bradley from Asolo Repertory Theatre and Will Little from Westcoast Black Theatre Troupe
Audio clip: Adobe Flash Player (version 9 or above) is required to play this audio clip. Download the latest version here. You also need to have JavaScript enabled in your browser.
January 28th: Bruce Rodgers – Hermitage Artists Retreat
Audio clip: Adobe Flash Player (version 9 or above) is required to play this audio clip. Download the latest version here. You also need to have JavaScript enabled in your browser.
January 21st: Michael Donald Edwards – Artistic Director of the Asolo Rep
Audio clip: Adobe Flash Player (version 9 or above) is required to play this audio clip. Download the latest version here. You also need to have JavaScript enabled in your browser.